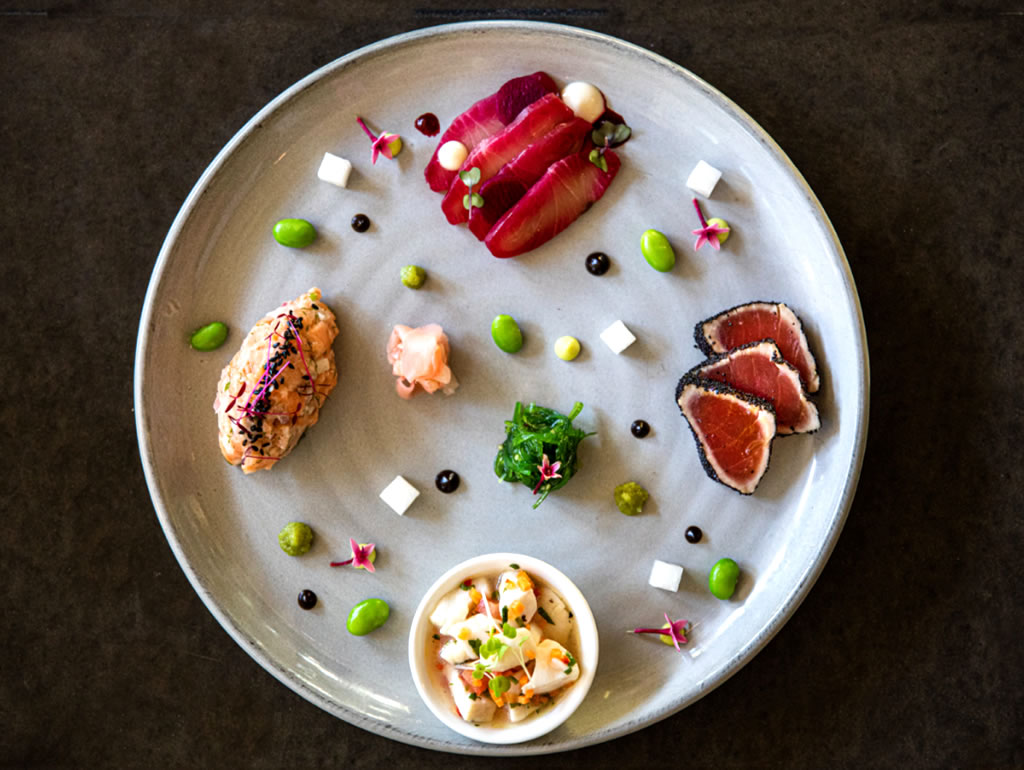 Best accompanied by: White wine, Loimer 'Lois" Gruner Veltliner from Kamptal, AUSTRIA
---
Whether on vacation, celebrating that special occasion, or a casual catch up with family or friends, Zinc Restaurant offers an elegant space to connect and relax in and is only a short stroll from famous Four Mile Beach in Macrossan Street.
Zinc's menu presents fine, contemporary Australian cuisine with traditional European flare, utilizing the abundance of fresh local seafood, through to locally grown tropical fruit & vegetables.
---
Four Raw Tastes of the Sea
Beetroot cured Hiramasa Kingfish with pickled beetroot and aioli
Salmon tartar with pear & sesame
Scallop ceviche with grapefruit & fresh chili
Yellow Fin tuna tataki with a poppy seed crust
---
"We are focusing on getting the best produce we can and keeping it simple is key" said Head Chef Adam Weck. "I've been lucky to have spent a lot of time out on the water around the Great Barrier Reef and amongst the farmers and the forests on The Tablelands. It makes my job as a chef so much easier knowing what we have available on our doorstep and the quality is amazing, with the abundance of seafood and the natural sweetness of the produce."
"We don't want to interfere too much with an already perfect product. The main ingredient of the dish will be the star and it will be done well, done right." Owners Dani and Chris have worked side by side for 10 years and couldn't agree more. "We have always strived to create an environment where our guests and all of our team feel welcome and valued. "Having fun while remaining a constant professional is very important, this translates onto the plate and ultimately through the smiles out the front."
One of our personal favourite dishes at the moment and one that is producing a lot of smiles is our "Four Raw Tastes."
If you enjoy tapas style share plates and love seafood then our 'Four Raw Tastes' is an absolute must, with four beautifully created tastes showcasing some wonderfully fresh seafood. Coupled with a chilled glass of Loimer 'Lois" Gruner Veltliner from Kamptal, Austria it's the perfect entree choice or a great start to a range of dishes from the Land or Sea.
Chris laughs, "I think I need to stop talking about the great food, it is making me hungry!"
"If we can deliver food and an experience that is talked about time and time again, for us, that is our addiction," adds Dani. "As a busy family we love the quality time we spend together, so having people share their social or special occasion with us and seeing pure enjoyment, it makes our day."