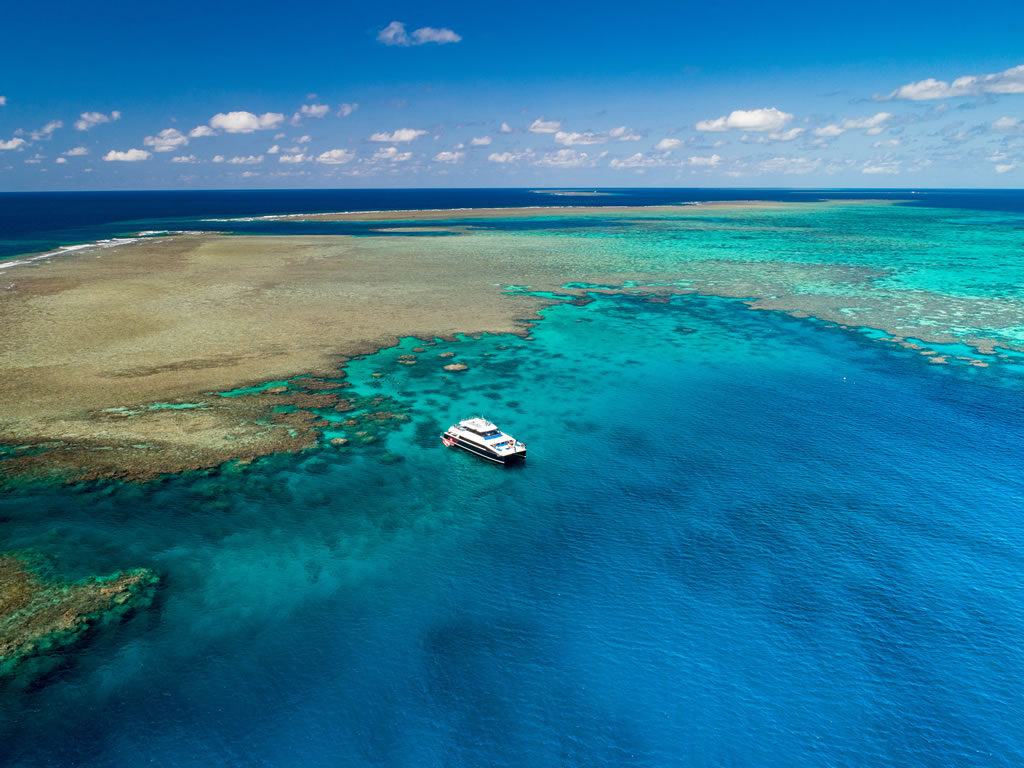 Follow the links to the live Beachcam
Weather in Port Douglas

No holiday would be properly researched without checking out the weather! Port Douglas weather is generally represented by three distinct seasons of which are all renowned individual experiences in their own right, making the Port Douglas Region a 365'on world travelers destination.
"Tropical Beach Season" occurs in the southern hemisphere winter/spring period from around April to November. 'Gondwana Greentime' fills in the December to February period of the southern hemisphere summer months. 'Warm Autumn Rain' is the month of March and is the truly spectacular monsoon period for Australia's Tropical North.

Winter / Spring (Beach Season) April - October

Port Douglas weather temperatures during this period fluctuate between 19 and 24 degrees C, boasting lots of clear blue skies during the day with comfortable, balmy temperatures in the evening. Port Douglas' Four Mile Beach is rated in the top five beaches in Australia and is remarked the world over for its untouched, tropical white sand and palm tree appearances.
This period coincides with the regions peak travel periods and pre booking of Port Douglas Accommodation is highly recommended.
Summer (Greentime) November - February

Known to the locals as the Waterhole Holiday period, this period is when Port Douglas weather showcases the true beauty of Tropical Paradise. Temperatures average between 23 and 30 degrees C, so travelers need only bring with them real summer clothing.
The Greentime is a period of calm Coral Seas making Reef Trips more unforgettable than at other times with unbelievable water clarity and tropical water temperatures. The Port Douglas Greentime is the season of Exotic Tropical Fruits with most in prime readiness in this period.
The period also attracts a lot of rainfall at night and in the days brings to life the worlds most beautiful waterfalls and river systems. There is no better time to experience the worlds oldest rainforest The Daintree, than some time during the Greentime, ask the tour operators what they think.
Autumn (Summer Rain) March

This is the period that allows Port Douglas to boast its World Renowned reputation as the Jewel of the Pacific Rim with its immediate access to two World Heritage Listed Areas, The Great Barrier Reef and The Daintree Rainforest. If you have never experienced a monsoon period and what the locals call Curtain Rain then we recommend you book for this period and you wont regret it, especially from the comfort of Port Douglas.
This season brings a raging Mossman Gorge and rivers, a super rich rain drenched Daintree Rainforest and calm Coral Seas. These are just some of the reasons travellers come to the region during March. Never before have so many people enjoyed the warm exploits of walking, running, eating and drinking in a summer rain. If you are adventurous type and like an experience worth talking about, seriously look into booking for this period.
Summer rains often occur at night leaving the days sunny with a slight chance of a sun shower.
Port Douglas Annual Weather Table
| | | | | |
| --- | --- | --- | --- | --- |
| Month | Min/Max | | Rainfall | Humidity |
| | (°C) | (°F) | (mm) | (%) |
| January | 24 - 31 (°C) | 75 - 88 (°F) | 395 | 76 |
| February | 24 - 31 (°C) | 75 - 88 (°F) | 424 | 80 |
| March | 23 - 30 (°C) | 73 - 86 (°F) | 425 | 78 |
| April | 21 - 29 (°C) | 70 - 84 (°F) | 204 | 76 |
| May | 20 - 27 (°C) | 68 - 81 (°F) | 72 | 75 |
| June | 17 - 26 (°C) | 63 - 79 (°F) | 48 | 74 |
| July | 17 - 25 (°C) | 63 - 77 (°F) | 26 | 72 |
| August | 17 - 26 (°C) | 63 - 79 (°F) | 25 | 70 |
| September | 19 - 28 (°C) | 66 - 82 (°F) | 32 | 67 |
| October | 20 - 29 (°C) | 68 - 84 (°F) | 49 | 68 |
| November | 22 - 30 (°C) | 72 - 86 (°F) | 108 | 70 |
| December | 23 - 31 (°C) | 73 - 88 (°F) | 205 | 70 |