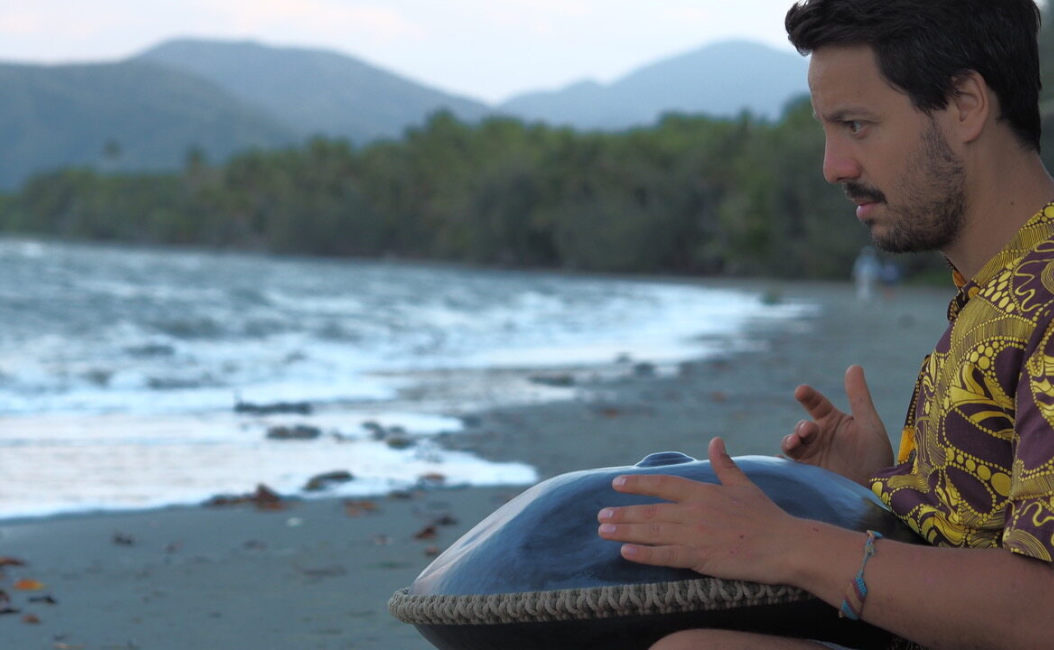 Words Jamie Jansen
-----------------
The Douglas Shire offers an abundance of amazing activities and experiences for tourists and locals alike. But sometimes you just want to do something different and think outside of the box. In that case, we got you covered. Check out below unique activities and be amazed!

Handpan workshop with Leonel Mina
'A handpan?' I hear you thinking. No, this has nothing to do with cooking. This instrument, which looks somewhat like a UFO or a turtle shell, produces mesmerising and relaxing sounds.
Leonel Mina is originally from Mar del Plata in Argentina, where he first met the handpan twelve years ago at a percussion festival.
As a musician, Mr Mina has travelled around the world, playing in the streets and in bars and pubs.
He uses backing tracks, live looping, percussion instruments and a device that allows him to make sounds with plants, fruits and vegetables.
Part art and part instrument, the handpan is often referred to as a 'sound sculpture
And now he has come to Port Douglas to give introductory workshops to people who are interested in playing the handpan.
"The handpan is only about 20 years old," Mr Mina explained. "Part art and part instrument, the handpan is often referred to as a 'sound sculpture'. Each handpan is handcrafted and unique.
"It is very intuitive to play, I only use my hands and some percussion instruments with my feet.
"The workshops that I give are open introductory classes in which I tell people about the history of the instrument and show some basic techniques. In just one class you can already know the structure of the instrument.
"The handpan is an expensive and exotic instrument so the class is usually a time to decide whether or not to buy a handpan.
"I finish the classes with a show where I show some different ideas, rhythms and using some rhythmic bases I explore different styles.
"Three weeks ago I started giving workshops and playing the handpan in yoga classes, pubs and resorts.
"I also have a business on Instagram called 'minihandpan' where I sell necklaces, keyrings, and miniatures inspired by the handpan."
For more information about the classes you can contact Leonel Mina at: [email protected].
Ballet for Seniors with Sharlene Cardilini
There is no age limit when you love movement and music. That is what they thought at Bodies in Motion in Mossman when they started to give ballet classes for all ages and levels of mobility.
Sharlene Cardilini, who teaches the classes, said ballet for seniors has become extremely popular in the last two years.
"When we discovered Queensland Ballet had developed the Ballet for Seniors program, formulated through extensive research, we jumped at the opportunity to take up training and certification to enable us to offer the classes locally," she said.
"This is not just a ballet class. There is so much more for individuals to gain from the interactions and participation than learning to do ballet.
"Our focus lies on keeping an active body and mind more than anything; ballet is just one way of facilitating them.
"As our bodies age, we all notice changes in our physicality, strength and abilities. The Ballet for Seniors program is a low impact form of exercise, providing challenging workouts to specific muscle groups which are important to our everyday muscle memory.
"We offer the opportunity to participate in a supportive, non-competitive, and non-judgemental community of like minded people. We often stay at the studio after class for a cuppa and a chat.
"The ladies really enjoy meeting new friends and the social side of the program. Something we believe is imperative to positive mental health outcomes as people age.
"This is not a gender specific program; being open to men and women alike. As the program isn't specifically about the ballet itself and more about all the other benefits which come with it."
Interested in attending the classes? You can contact Jody Pitt for more information: [email protected].