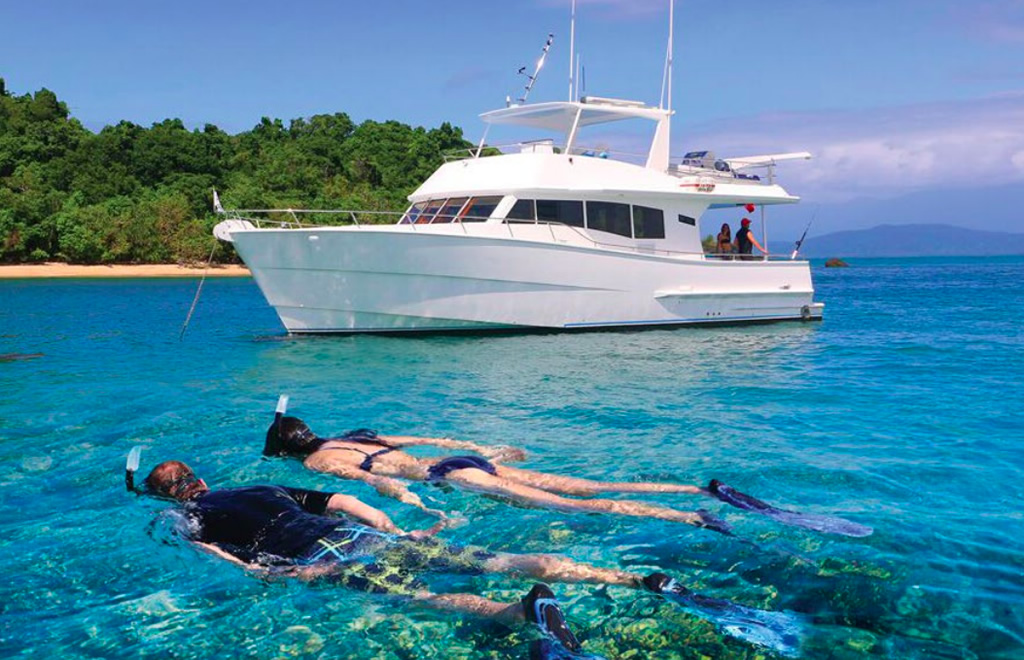 As I make my way across the back deck of MV Monsoon, I force those little niggles of nerves all the way down to the bottom of my tummy. It is my very first dive on The Great Barrier Reef, one of The Seven Wonders of the Natural World, and I am here, on my own private vessel, with my own private dive guide – what an absolute treat.
Time is passing as slowly as I had hoped, I'm feeling so relaxed.
My toes dangle over the edge and as I look down into what I believe to be the most brilliant colour of blue I have ever seen, Tom asks, "Divers ready?"
Gulp. Here we go!
I take one giant stride and plunge into the Coral Sea. Bubbles engulf my body and tickle my face, and as they dwindle I remind myself to breath slowly …Wow, this is really it; I can see it right in front of me, right below me, to my left and to my right. The incredible organism that can be seen from space is only feet away from my finger tips – the magical Great Barrier Reef.
On board MV Monsoon with my dive guide Tom Lang was the highlight of my holiday and an experience I'll never forget
Tom signals OK, and we begin to descend. A large pinnacle rises up from the depths below - a pyramid of colours swaying in the sea current. I look closely at the coral and am reminded of what Tom had told me on the surface – each tiny polyp is a single organism, which makes up a whole, an animal related to sea anemones and jellyfish, one that needs sunlight to grow. The corals are beautiful, hard and soft and all shapes and sizes. Tiny little fish, with fluorescent blue and yellow stripes dart between the corals, trying to get a glimpse of me as I am of them. I see a bright blue sea star clinging to the rocky base of the pinnacle, a symphony of dancing fish swim right by me, oblivious to the stranger so entranced by the details of their underwater world. Time is passing as slowly as I had hoped, I'm feeling so relaxed. I take a moment to enjoy my quiet contentment.