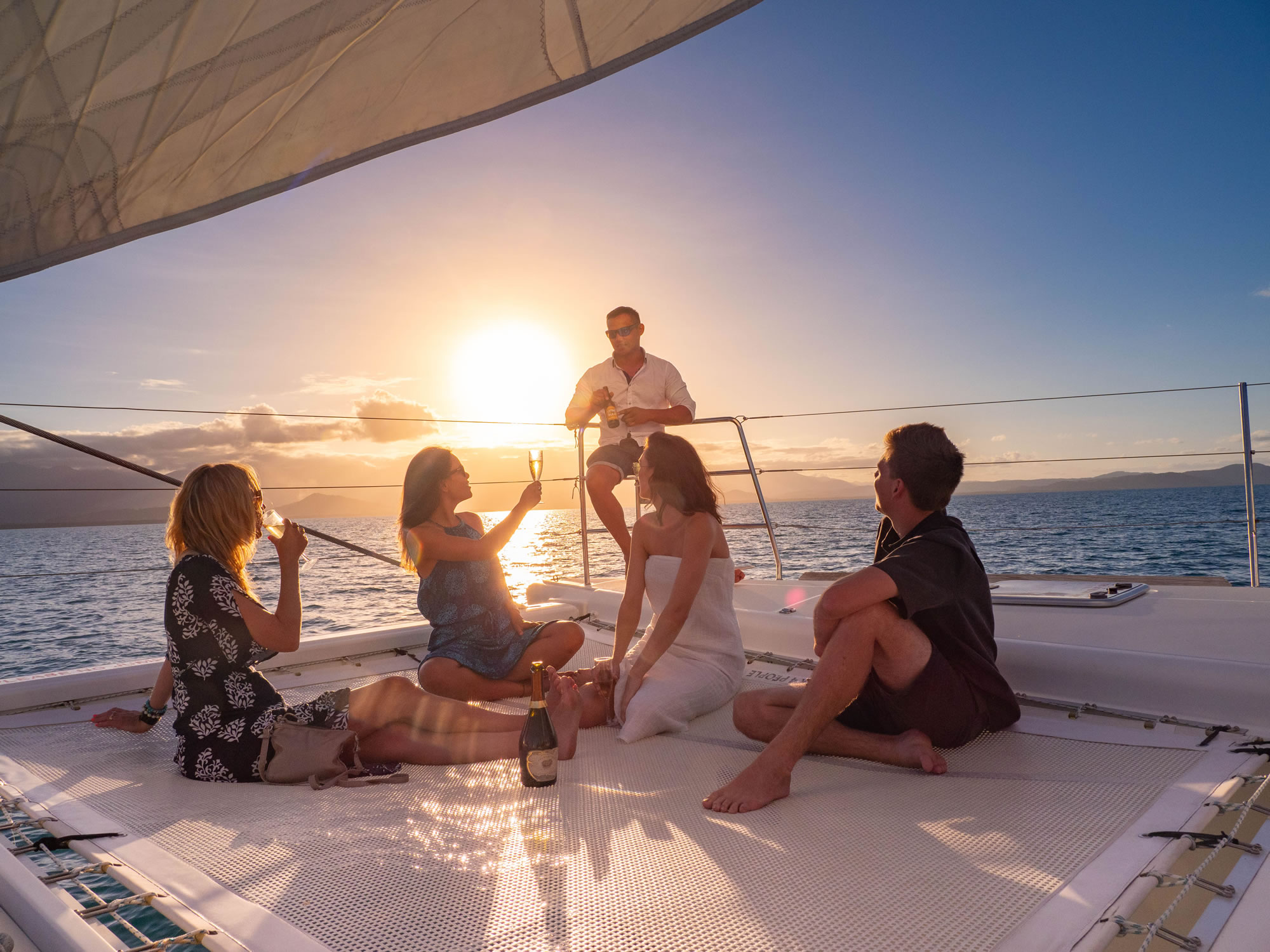 Port Douglas is a resort town whose relaxed tropical outlook and stunning natural beauty make it a perfect vacation destination. A wide range of Port Douglas accommodation and equally wide range of activities make this a memorable trip for everyone in the family.
Great Barrier Reef
Just off the town's eastern shore lies one of the world's most spectacular natural wonders with over 400 species of coral and 1,500 species of fish, sea turtles, dolphins, and rays. The variety of tours is endless, and visitors can see the reef from the deck of a boat or snorkel alongside the fish.
Flagstaff Hill Lookout
Port Douglas is bounded by water on three sides, and Flagstaff Hill Lookout offers a breathtaking view of the entire panorama. The Lookout can be reached by car, but the gentle grade makes this an enjoyable walk for most visitors.
Flagstaff Hill Sky Deck
Stand out over the Coral Sea and loose yourself in a sunrise or sunset looking over four mile beach. Access from the Four Beach stairs.
Flagstaff Hill Headland Walk
Along with the Sky Dec this is one of Pot Douglas more recent new facilities. Walk from Rex Smeal Park (Sunset Park) right up and around to Four Mile Beach - a must do). Take your time there ar e few step incline to negotiate.
Four Mile Beach
The turquoise waters and wide sand deck fringed by palms and mangroves rather than urban sprawl make Four Mile Beach one of the region's favorites. The waves are gentle and family-friendly, while strong winter Trade Winds make it popular with kitesurfers from June to August.
Crystabrook Super Yacht Marina
Located on the west side of town on the Dickson Inlet, Crystalbrook Marina is the lifeline to the Great Barrier Reef. Stop in to one of the restaurants or bars or have a local ale with Hemingways Brewery.
Dickson Inlet River Cruises
See Port Douglas' mangrove system from a classic riverboat. Dense mangrove swamps, water birds like heron and egrets, and saltwater crocodiles are expected sights along the way.
Downtown Port Douglas
Macrossan Street is the town's main avenue, lined with shops and casual restaurants. Here are numerous galleries featuring local artists working in a wide range of styles. A special feature of Port Douglas, the galleries have become well-known over the years and are an attraction in themselves.
Wednesday Markets
Every Wednesday afternoon Crystalbrook Marina comes alive to host the Sunset Markets. Goods are produced by local craftsmen and artists there's a mouth-watering selection of fresh fruits and vegetables from local growers.
Sunday Markets
Each Sunday morning seaside Anzac Park becomes the setting for colorful open-air markets. In addition to goods produced by local craftsmen and artists there's a mouth-watering selection of fresh fruits and vegetables from local growers.
Mossman Gorge and Daintree National Park
Of the many day trips available from Port Douglas, the most noteworthy is Mossman Gorge & the Daintree National Park, home to more species of plants and animals than any other place on earth and Australia's largest tropical rainforest. There's a tour for every taste, including one led by indigenous aboriginal people that has visitors sliding in the mud of mango swamps, learning survival skills and to catch their own seaside dinner.
Golf Courses
The stunning scenery of the area makes a perfect backdrop for golf. Port Douglas has several world class courses, so beautifully designed even casual golfers will want to hit the links.