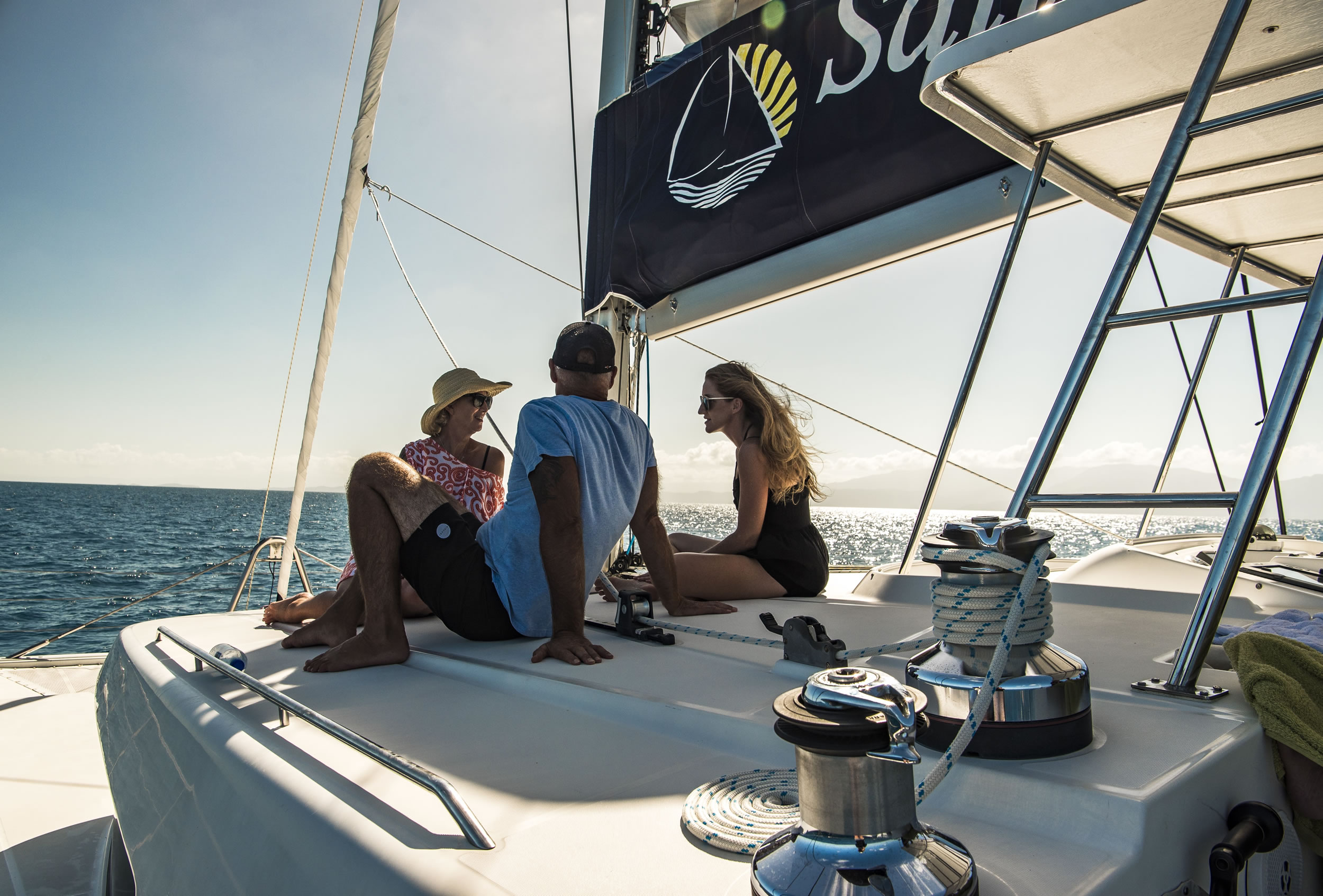 Port Douglas is the perfect choice for people who are over 50 with mature interests or those who just want fun! For some, 50's aren't the new 40's it's the new 30's! Port Douglas offers a wide selection of tours to appeal to all tastes, palates and adrenalin levels.
Adult Only Accommodation
Most over 50's have done the kids thing and are happy to be grandparents, when they can hand the grandkids back at the end of the day. Lounging by a pool accompanied by the vocal screams of excited children as one is trying to read the latest John Grisham or Philippa Gregory, is as relaxing as listening to nails scraping down a blackboard.
Local resort owners have recognised that adult only accommodation in Port Douglas is in demand and have reacted accordingly. All are located within a few minutes walk of central Port Douglas and only a few minutes walk from the beach. The Peninsula Boutique Hotel offers sea views of Four Mile Beach and the Coral Sea and is one of the few resorts in Port Douglas that offers this aspect.
Over 50's in Port Douglas - Reef Tours exploring the Great Barrier Reef
For the adventurous over 50's that love nature, there's nothing to compare to exploring the Great Barrier Reef from Port Douglas. You will see the amazing marine and coral life of this World Heritage Site and one of the seven natural wonders of the world.
If you wish to snorkel then there are many tours to the Great Barrier Reef that offer a variety of snorkel stops on Tongue, Opal and Agincourt Reef. Most tours will take you to three magnificent sites on the Great Barrier Reef.
If you wish to explore the depths of the Great Barrier Reef underwater then you can partake in an introduction to scuba diving course. This introductory diving course will enable you to feel what it is like to breathe underwater on a 30 minute scuba dive (be aware that any medical conditions such as asthma, epilepsy, diabetes, low/high blood pressure may preclude you from this activity).
Remember, if you are an over 50 certified diver, don't worry, your diving certification lasts for life (PADI). If you have lost your certification card and are PADI certified they might be able to track your certification on line (check with your tour company). If you haven't dived for a while then most Port Douglas tours will suggest that you have a refresher and go on an introductory dive on your first dive so you can find your dive legs again.
If you are a rusty snorkeler (or never snorkelled before), don't worry, the snorkel guides on the boat will give you instruction on how to use the equipment and will help you in-water to find your snorkel 'legs'.
Over 50's in Port Douglas - Outer Reef Dive and Snorkel tours
These Port Douglas Great Barrier Reef tours will take you to three beautiful dive sites on the outer Great Barrier Reef (Agincourt Reef). You will be going on a mixed dive and snorkel boat, which is ideal if you are in a group where people wish to partake in these separate activities. All costs include your equipment and food (sumptuous buffet lunches, fruit platters and cheese and biscuits). Most cruises have a licensed bar so you can sip the tipple of your choice on the trip back to Port Douglas Marina as you reflect on the amazing underwater sights you have seen.
Over 50's in Port Douglas - Outer Reef Snorkel only tours
These tours from Port Douglas will take you to the outer Great Barrier Reef (Opal Reef, Tongue Reef, Horseshoe Bay and Mackay Coral Cay). These are day tours where everything is included in the price (your equipment and food). Most tours have a licensed bar so you can sip on a beer or a wine for the return journey as you watch the sun set on another amazing day in tropical Far North Queensland.
Over 50's in Port Douglas – Low Isles Tours
The Low Isles is a pristine Island (or Cay) located only 12 km from Port Douglas. It is a tropical island jewel surrounded by azure clear waters and the fringing reefs of the Great Barrier Reef. On the reefs just a few snorkel kicks from the white sand beach are shoals of colourful reef fish and intricate corals, even you might be lucky to swim over a grazing turtle. The uninhabited Low Isles also has an abundance of life on the island, as it serves as a resting and nesting place for a wide selection of migratory birds.
You can escape into your own paradise on a 15 minute self-guided walk around the island. Learn about its fascinating history and how it played its part in marine research.
Depending on your desired mode of transport from Port Douglas Marina you can have a leisurely sail, (1hr) or ride on a turbo adrenalin ride at 45 knots (15 mins)
Over 50's in Port Douglas – Dining Out
If there's one thing that over 50's (and any age!) love – is appreciating good food and drink. With greater awareness being given to ethically raised meat and paddock to plate freshness, Port Douglas is well placed being near the Tablelands (Australia's food basket) to show you the best of its local produce. Produce that is delivered daily to the award winning restaurants of Port Douglas.
Many of the restaurants have the finest chefs who have trained with the finest contemporary chefs of their age. There are more prestigious restaurants with awards in Port Douglas per capita than the rest of Australia!
Over 50's in Port Douglas - Architecture and History
Port Douglas History Pages
Coming to Port Douglas one can't avoid the entrenched history of the area and the joy of discovering it.
The local Daintree Rainforest is the world's oldest rainforest, which has been inhabited by aboriginals for over 40,000 years. Captain Cook's legacy of his visit here still lingers, 'Cape Tribulation' was aptly named after his not so relaxing navigation experience of the area. Port Douglas was named after John Douglas who was the Premier of Queensland (1877-79) and in its short history the town has wafted and waned with the changing fortunes and industries.
There is a museum in the old Courthouse (built in 1878) run by the Douglas Shire Historical Society that you can visit.
KStar Tours also runs historical walking tours that, at a leisurely pace, will take you back in time through the interesting history of Port Douglas. They even organise a cemetery tour of Port Douglas, where you can learn about some of the town's colourful past residents and populace that help gave Port Douglas its flavour and substance that it is today.
Warbird Adventures
Only 1.5 hours drive from Port Douglas you can visit the Warbird Museum. If
you are interested in World War II aircraft you can view:
1. Nanchang – Ex PLAAF (China) – Flying
2. 2. Winjeel – Ex RAAF (Australia) – Flying
3. C47 Douglas DC3 – Ex USAAF (American) – Under Restoration
4. F4U-1D Corsair – Ex USN (American – Under Restoration
5. 5. T6 Harvard – Ex RNZAF (New Zealand) – Flying
Australian Armour & Artillery Museum
This military museum, located 1 hour from Port Douglas, is privately owned and is the largest museum of its kind in the southern hemisphere.
The Museum is dedicated to the preservation, collection, display and restoration of Armoured Vehicles and Artillery from the 1800's to the present day. Their collection includes armoured vehicles and artillery from both world wars but particularly focuses on WWII.
Currently the collection consists of 140 armoured vehicles and artillery pieces, many of which cannot be found anywhere else in Australia.
Over 50's in Port Douglas - Cultural Experiences/Festivals
With the tropical climate in Port Douglas, holding open-air events in the dry season is a perfect way to enjoy music and art, without worrying about bringing an umbrella.
There are a wide range of experiences on offer to cater for all tastes of food, music and culture.
May
Port Douglas Carnivale (25-27 May)
From cabaret acts (Wonderland Spiegletent) in a vintage circus tent to Port on a Fork and the Longest Lunch there is plenty to tempt the taste buds for food and sauciness. With an effervescent street parade the Carnivale is packed with flavour, wine, laughter and the best that Port Douglas offers.
June
Kuranda Roots Festival (22-24 June)
If you feel like shaking your dreadlocks (albeit slight greying ones) and chilling out to some mellower beats this local event (one hour from Port Douglas) showcases artists from the world, roots, reggae and dub genres. Located at the beautifully scenic Kuranda amphitheatre, where you can enjoy Caribbean rhythm under the palm trees of tropical far north Queensland.
Laura Dance Festival (bi-annual, next one 2019)
This is an amazingly unique cultural event that brings together Cape York's Aboriginal communities for singing, dancing, art and crafts. It's held every two years at the Dance Festival Showgrounds near Split Rock (approx. 250kms from Port Douglas). Camping is the only option for accommodation.

September
Opera in the Outback (19-21 September)
This is an iconic annual event located four hours from Port Douglas. This regional local event has a national (and international) reputation and attracts world-class opera performers. Spread over three days this amazing cultural experience is located under the stars at an amphitheatre in the heartland of the outback.
Wallaby Creek Festival (28-30 September)
With 135 campgrounds the Wallaby Creek Festival embraces people of all ages from throughout far north Queensland and Australia to this family-friendly music and arts festival. Interspersed in the days are also activities and workshops for children and adults alike that include yoga and poetry, to clown workshops, bush tucker walks and circus therapy. Wallaby Creek Festival is located about three hours from Port Douglas south of Cooktown at Home Rule Lodge, Rossville and is set amongst the stunning World Heritage rainforest.
Over 50's in Port Douglas - Adventure
No matter what age you are being an adrenalin junkie isn't age related!
Port Douglas has a range of thrill filling activities that will get your heart beating just that little bit quicker.
Jungle Surfing – Cape Tribulation
Zoom through the Daintree Rainforest canopy on 7 zip lines. A perfect adrenaline rush for anybody aged from 3 to 103! On each of the 6 platforms you will also have an interesting eco talk from one of your tour guides.
Helicopter Tour
The perfect way to see the full beauty of the Great Barrier Reef from above (and land on a remote sand cay for lunch) or fly into the depths of the Daintree Rainforest and have lunch in your private paradise next to a cascading waterfall.
Harley Tour
Experience a wide range of tours riding on a Harley trike. Visit a winery, have an indigenous tour, ride through the world's oldest rainforest or just cruise along one of the world's most scenic coastal routes. You can even arrange airport transfers!
Live on board fishing charter - Levante
- Two cabins provide overnight accommodation for up to five guests and up to 6 guests for day trips
- The boat comes with all modern conveniences include air conditioning.
- Wi-Fi is also available when in broadcast distance
- Full and half day private or shared charters available
Private charter fishing tour - Zulu
Offers private charters only for groups of up to 7 people (day trip) or 5 (overnight).
Zulu is a custom built 54ft Assegai
- It has the latest technology to ensure safety and fish finding
- A full range of custom rods and reels on board will ensure you will have the right equipment for the right fish
- There are two cabins provide overnight accommodation for
up to 5 guests and for 7 guests for day trips
Private charter for luxury cruising (fishing and snorkelling) - Beluga
With your own staff, 5 staterooms and the ability to accommodate 12 guests in opulent style – this is truly your own palace on the Great Barrier Reef.
Beluga is a custom 34.7M Moonen explorer-style motor yacht
- Four impressive decks, providing numerous dining and lounging options
- Your staff consists of an executive chef and five-star crew
- Activities on board - Fishing, diving and leisure customised charters
- Game fishing with Zulu custom built game fishing in the day
Hook-a-Barra
If you are worried about getting sea sick – take a short drive from Port Douglas (30 minutes) to Wonga and you can hook your own barramundi or mangrove jack from man-made lakes.
- Fly-fishing available and tuition given by experienced staff
- This is perfect fishing for anglers of all skills and abilities
- Children with adults are free

Over 50's in Port Douglas – Rainforest Tours – The Daintree Rainforest and Cape Tribulation
If you are self driving you can cross the Daintree River to Cape Tribulation on the Daintree ferry.
Daintree River Ferry
One of the stars of the region around Port Douglas is the Daintree Rainforest. The world's oldest rainforest provides the ultimate eco system. Under its forest canopy unique fauna and flora are found with new species being found regularly.
This World Heritage Site is dotted with crystal clear water holes and cascading waterfalls. You might even be lucky to see one of the remaining prehistoric flightless birds, the Cassowary.
There are a variety of tours to choose from to fully explore this pristine corner of Australia:
Daintree Wonder Tours
Daintree Discovery Tours
Ocean Safari - Snorkel trip to the outer Great Barrier Reef from Cape Tribulation (half day)
Tony's Tropical Tours
Cape Tribulation horse riding - Beach and Daintree Rainforest riding – for horse riders of all levels.
Solar Whisper Croc spotting tour along the Daintree River
Back Country Bliss
Only river snorkelling tour in Australia – in the crystal waters of the Daintree Rainforest