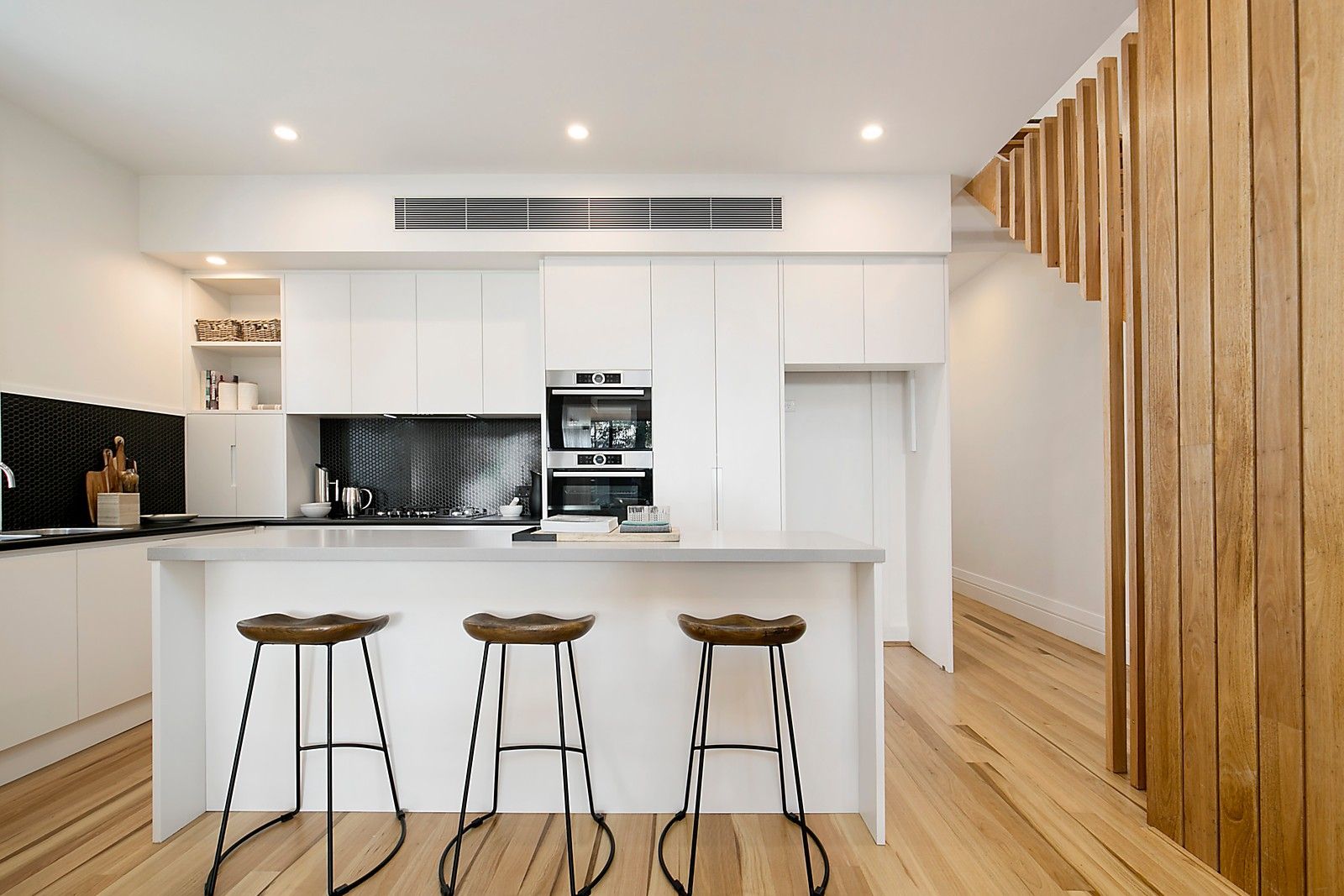 If you are unsure what a studio apartment is, or imagine a one room dingy apartment with mould climbing up walls and a view of the next apartment's wall a la Streets of New York, then think again.
The self contained Studio Apartments in Port Douglas, Queensland are less flick knife and more luxury Swiss penknife or Lederman with extra attachments. Imagine a luxurious one bedroom apartment with all amenities and then just take away the bedroom wall and voila – a studio apartment!
Studio apartments in Port Douglas are literally a wall away from being one bedroom apartments. They offer all the luxury of a one bedroom apartment, but enabling you to have a home away from home at a more budget price. Some studios can accommodate up to 4 people (By the Sea). All resorts have pools and wherever you stay you less than a 5 minute walk away from the world famous Four Mile Beach.
Choose from self-contained studio apartments overlooking the beach or slap bang in the middle of Port Douglas town in Macrossan Street. You can even find studio apartments in an adults only resort away so you can sunbathe uninterrupted by screaming babies and energetic children.
For a well-appointed studio apartment in Port Douglas expect all the bells and a lot more whistles. Some studio apartments have pool views. Some come with Laundry facilities, dishwashers, cable and satellite TV. All self-contained studios come with fully stocked kitchenettes, so you can still enjoy the culinary delights of home cooking on your doorstep.
If you wish to accommodate more than two people then some studio apartments come with rollaway beds (Best Western) so you can really make use of the space at a budget price.
The ideal part of a studio apartment is that you still have access to the beaches and locations and all the attractions in Port Douglas with the amenities but at less cost than for a similar space as an apartment.
Self Contained Apartments in Port Douglas Under $150
The availability of Port Douglas self-contained accommodation apartments under $150 varies depending on the season. As for all supply and demand situations, Port Douglas accommodation in high season will rise and in Green Season the prices will be reduced. For the more consistently priced under $150 Port Douglas self-contained accommodation all year round there are still a variety of options to suit shorter purse strings.
With all accommodation options in Port Douglas you are within a 5 minute walk of Four Mile Beach and some of the under $150 self-catering accommodation are also within a small stone's throw of the main street of Port Douglas - Macrossan Street. Coral Apartments (Seascape Holidays), Central Plaza and Reef Club and Port Douglas Retreat are so close by the time you've put the key in a car ignition you could have walked it. All accommodation places in Port Douglas have swimming pools so you can relax by the pool with a book and chill out.
If you would like to be more in touch with nature, then 7km from Port Douglas is the wonderful Glengarry Holiday Park which offers a different kind of experience. Their en-suite cabins come complete with a kitchenette, TV and A/C and offers great value and all set in stunning grounds and amazing scenery.
Accommodation under $150 in Port Douglas doesn't mean 'slumming it", the Lazy Lizard (Best Western) is of such a good standard that it won the 2016 Travellers Choice Award on Trip Advisor.
When searching for more budget style accommodation, then the advice would be to be aware of the season and this will dictate the range of choice you will have. Also, depending on the duration of your stay will also affect the price, as some accommodation places in Port Douglas will offer discounts for 5 or 7 night stays.

Self Contained Accommodation in Port Douglas under $250 and over $150
Port Douglas has a wide range of accommodation options for under a $250. Being in the tourist 'game' for many years it has had much time to hone and perfect the art of service and knowing what visitors require. Boasting a wide selection of self-contained accommodation available in Port Douglas for under $250, you can find something to suit all your criteria.
At this pricing you will not only be looking for that extra special one bedroom but you are now verging on being able to afford a two bedroom apartment – ideal for the family (Reef Club Resort). If you have a larger family and a smaller purse then your dollar can even stretch to two bedrooms and two bathrooms with even a roll out bed (Coral Sea Villas) for that extra body. Studio apartments that accommodate 4 people are also available at By the Sea; watch out for their last minute deals or low season deals. By the Sea Resort is ideal for families as they include so many extras in their prices (bike hire, internet, sun loungers) and are literally within spitting distance of the main area of Four Mile Beach.
For the couple who want that extra romantic experience on a budget for holiday accommodation under $250 there are several options. If you want to be near the beach and in the centre of Port Douglas (The White House) and also adult only (Port Douglas Apartments) there are options to choose from to ensure that your time together in Port Douglas is a memorable one.
Whether looking for holiday accommodation for the family or for a romantic getaway self-catering accommodation for under $250 in Port Douglas will find you within only a few minutes' walk of the beach and lazing by the swimming pool at your resort in no time.
For any accommodation in Port Douglas prices can vary depending on the season, so it is worth keeping an eye out for any Green Season deals when prices are lower and your dollar will stretch to give you that much more bang for your buck. When researching the under $250 self-catering accommodation options for the busier times of year then booking well ahead of time or keeping any eye out for last minute deals when slightly out of the high seasons is a good tip to finding something suitable.
Self Contained Accommodation in Port Douglas Over $250
When you are more concerned with quality and finding that something 'extra special', then Port Douglas can certainly come up with the goods for accommodation over $250 in Port Douglas.If you are looking for that designer 'wow factor' chic or just simply have a big budget due to the number of people the accommodation needs to accommodate. Certainly, your dollar can stretch further with some places offering discounts for 3 or 7 night packages (Reflections).
Some have just completed major refurbishment (Saltwater, Pool Resort), so you will be living in interior designed, modern holiday accommodation. Exclusive accommodation like Niramaya offers luxuriously appointed villas with a Bali inspired tropical feel and 'wow factor'. Complete with cathedral ceilings and a real inside/outside tropical feel, staying here will make your Port Douglas accommodation the star focus of your holiday.
For accommodation over $250 many of the self-contained options have fully stocked kitchens with dishwashers (Reflections, Pool, Saltwater, Niramaya, On the Beach) and some offer you your own laundry facilities (Saltwater, Niramaya, Sea Temple).
All have their own swimming pools, some 30m long (Pool) and some even have their own heated pool (Reflections) which can take the edge off the slightly brrrr factor when swimming in the Winter months (August – February). For romantic couples experience the intimate joys of the 2 person spa baths on your own balcony under the spreading palm trees or in your luxury appointed rooms (Peppers, Peninsula). For an outside tropical dip wallow in your heated plunge pool and outside spa (Niramaya). Bathing in Port Douglas surrounded by the tropical ambiance is a wonderful place to relax in bubbles sipping bubbles!
For ease of access for the less mobile or disabled, or if you are a family with young children and buggies, then ground floor access is available at many of the accommodation places (Reflections, Peppers, Pool, Peninsula Boutique, Niramaya, On the Beach). Some accommodation also offers one floor living for those with limited mobility (Reflections, Peppers, Peninsula, On the Beach).
For the larger parties to be catered for there are various configurations for the over $250 accommodation options. There are 3 bedroom places available (Pool, Saltwater, On the Beach). For larger parties there are houses that can accommodate up to 8 guests (Niramaya). For value you can pay for a 1 bedroom suite that fits a maximum of 3 people (Peppers) or a 4 bedroom studio (By the Sea).
Port Douglas Luxury Self-Catering Accommodation
Port Douglas does 'luxury' and 'self-catering' well. As a tourist destination that has developed over the years to mould itself to visitor's requirements there are a range of 5 and 6 star accommodation places in Port Douglas that take style and luxury to the next level.
Your extra dollars will not only buy you extra luxury but you can afford location, location, location! Sit on your balcony sipping your sunset drink whilst watching the amber glow of the sunset filling the horizon as you gaze out over Four Mile Beach and the waving coconut trees (Peninsula, On the Beach). Or stay within a stone's throw of the main Macrossan Street where the restaurants and shops are (Saltwater, Reflections, Peninsula, On the Beach).
With a fuller budget you can afford to stay at an 'adult only' luxury resort (Peninsula, Shantara), where you will be spared the screams and shouting of children (and their parents).
If you prefer to have facilities on your doorstep then stay in a luxury resort where there are gyms, spas, bars and restaurants (should you fancy a break from self-catering) (QT, Sea Temple, Niramaya). Choose from a wide range of styles from eclectic retro (QT) to the soaring ceilinged, majestic Bali inspired designer style of your own villa (Niramaya) to the swim up tropical chic décor of your pool side accommodation apartment (Sea Temple).
All luxury resorts have a swimming pool, but with the extra dollar you are able to afford pools with a capital "P". Some Port Douglas accommodation literally has pool access within steps (or step offs) of your living area (Pool, Sea Temple, Peppers), some boast massively long pools (Sea Temple, Pool) and some even have their own man-made white sand beach (Peppers).
Port Douglas Self Catering Accommodation Close to Town Centre
Being close to town and the centre of Port Douglas means that the only thing being worn down on your holiday is your shoe soles. With your accommodation being within walking distance of the restaurants, bars, shops and cafes of the main street (Macrossan Street) you will have no need to worry about hiring a car or transport. Most tours will pick you up from your accommodation and you are only about 5 minutes' walk away from the Reef Marina, where the boats for the reef trips leave from.
The main street of Macrossan Street in Port Douglas is only a 5 minute walk from one end to the other, but it is filled with a range of shops that will take your attention and taste buds.
Macrossan Street in the centre of town has something for everybody. If you like fashion then it has the main names, Witchery, Lorna Jane, Just Jeans, Cotton On, Sea Folly with surf fashion stores and a host of unique boutique designer stores (Barbarella & Swan, Ginni's, Tsusk, Jungle Road).
For the foodie you can choose from Mexican, Brazilian, Japanese, Italian, Asian Fusion, Ice Cream and even a local chocolate shop selling the most delectable mixes of chocolate that surpass your taste buds and their imagination.
For the drinkie, there are a few bars in the centre of Port Douglas town. At Paddy's Irish Bar you can sup on a Guinness or have a beer at the Courthouse Hotel or Central Hotel. Try exotic cocktails at Watergate, Sassi's or head out to the Marina area and sample the micro- brewery beers of Hemingways. Have a sun downer cocktail or bubbles at Barbados or The Inlet.
If you want to find quirky souvenirs then there are a host of shops in the centre of Port Douglas that will suit any budget from the cheaper end to the high end galleries where you can purchase the amazing art of local artists.
Being in central Port Douglas also means that you are near the main beach at Four Mile Beach. Walk down to the main beach and hire sunbeds and other beach equipment. Swim between the flags and be under the watchful eye of the local coastguards. The sea here is very calm and there are no rips or large waves so swimming in the sea is very safe.
For a double whammy you can stay in accommodation with a sea view and also be near the beach (Peninsula). Some accommodation is slap bang in the middle of town – you'll almost just fall out of the door onto the main street (Macrossan House, Port Douglas Apartments, Regal, Coral Villas, Seascape, and Marina Terraces). All holiday accommodation have their own pools and some are even heated (Reflections). Some accommodation places are a block away from Macrossan Street (Meridian, Port Douglas Retreat).
Self-Catering Honeymooner Accommodation in Port Douglas
Coming to Port Douglas and staying in self-catering honeymoon accommodation is the ideal spot to give you both wonderful memories to last you and your partner for a lifetime. Many couples are so enraptured by the beauty of Port Douglas for their honeymoon that they return and celebrate their significant anniversaries for many years after.
Honeymoons are made in Port Douglas, whether walking hand in hand down the iconic Four Mile Beach or exploring the nearby Daintree rainforest, the laid-back tropical vibe of Port Douglas is a honeymoon dream for any couple.
Choosing a self-catering honeymoon option in Port Douglas will give you the flexibility to not be restricted by restaurant opening hours and can allow you to be self-sufficient. As a budget consideration it also means that you can save your money and spend it only the most lavish, romantic dinners that will really be a high point of your time in Port Douglas.
Self-Catering on your honeymoon doesn't mean slumming it, it just means that you will have a fully operational accommodation with all the equipment that can cater for you, like you are home from home.
For that extra special romantic accommodation you can choose from a luxury boutique self-contained house or apartment by the Beach (Plantation House, No. 1 on the Beach). This will give you total privacy to have your own space in these immaculate properties with their own pools and palm-fringed grounds. Bathe in your own private pools and dine al fresco (Plantation House, Beach Villa) as you both look out across the palm fringed beach of Four Mile Beach to the horizon (No. 1 on the Beach, 321 On the Beach, Peninsula).
For the best romantic self-catering honeymoon options why not stay in luxury apartments in an adult only resort (Peninsula, Shantara). There's nothing worse than trying to be romantic over the screams of red-faced tantrum-throwing kids or the stern shouting of exasperated parents (those joys you can look forward to experiencing later) so these options are ideal.
For the best vistas from your balcony where you can sit and sup on your sun downers whilst watching the tropical sun set on another magical day across the Coral Sea and the coconut palm fronds there are some wonderful accommodation places (Peninsula, By the Sea, Saltwater, Beaches, Beachfront Terraces).
There is romantic self-catering accommodation to suit every budget from under $200 a night (Palm Villas, The Pavilions and Mango Tree) to skies the limit! With private houses set in their own grounds (Niramaya, Plantation House, Beach villa, No. 1 on the Beach).
If location is important and being near the heart of the town near Macrossan Street and Four Mile Beach (all accommodation is within 5 minutes' walk from the beach) then you can choose from a variety of places. There's the ones that you literally fall out the front door to the main street (The Pavilions, Macrossan House, Regal, Martinique, Villa San Michele, Reflections, Club Tropical, Central Plaza) to the places set a few blocks back and are within a minutes' walk from Macrossan (Shantara, Nautilus, Peppers).
For extra pampering on your honeymoon you can choose apartments where you can both enjoy some bubbles in some bubbles and stay in accommodation with private spas (Shantara, Peppers, Central Plaza, The Pavilions, Niramaya) or why not both have a massage? For the ultimate in couples pampering, treat yourselves to a couples luxuriating massage (Niramaya) or just for a personal treat there are spas and massages available at your accommodation (Shantara, Peppers, Hibiscus).
No matter what your budget or where you stay, Port Douglas's ambiance and wonderful tropical lifestyle will definitely put a capital "R" in romance for your amazing honeymoon in Port Douglas.