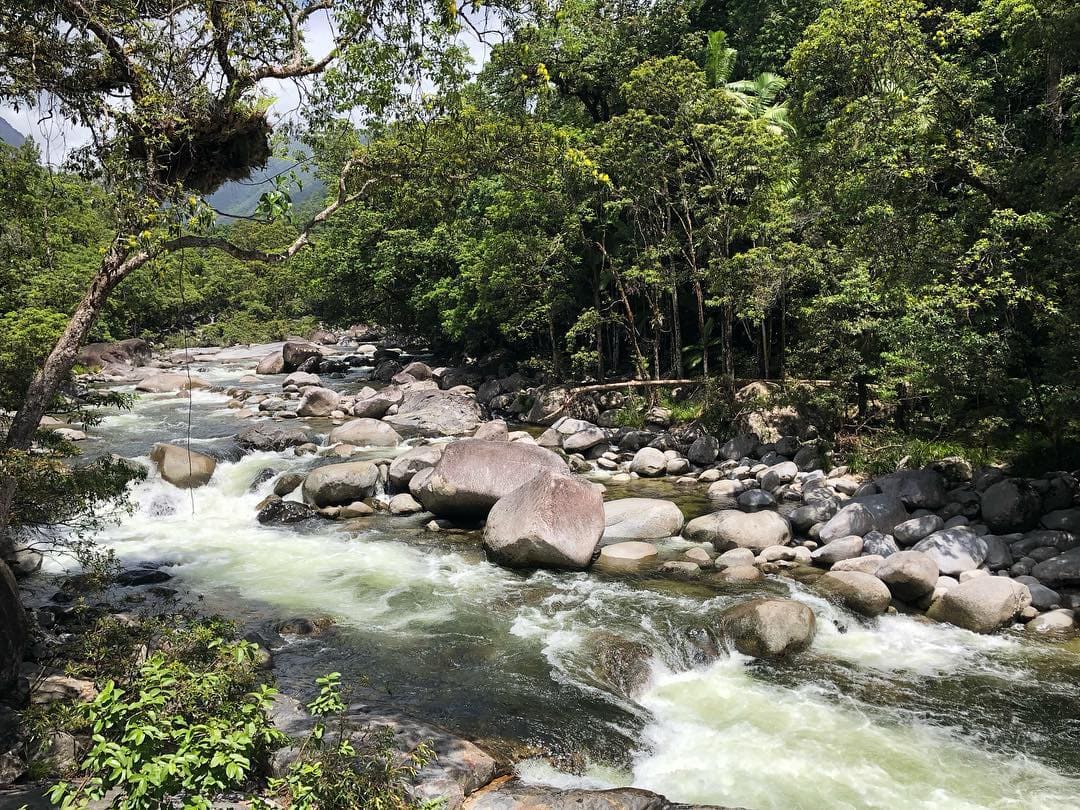 Stunning Mossman Gorge forms part of the traditional rainforest lands of the Kuku Yalanji people and borders the southern edge of the Daintree Rainforest National Park. After an award winning eco redevelopment Mossman Gorge has become a must see for visitors to Far North Queensland.

Visit the Mossman Gorge tours page

Indigenous Experiences
The Mossman Gorge Centre forms the gateway to the Gorge proper and provides a truly authentic Aboriginal learning experience in architecturally designed surrounds. The Visitor Centre features an indigenous art gallery and shop that showcases the arts and crafts of local Kuku Yalanji artists and designers. There is also a gift shop for a keepsake, and a cafe to refresh after a dip and a walk through the ancient rainforest. The visitor centre is also the pick up and drop off point for the shuttle bus to the Gorge.
Swimming at Mossman Gorge
Mossman Gorge features a sheltered swimming hole where the pristine rainforest water flows around spectacular granite boulders and a sandy beach forms a perfect entry point into the water. Anyone planning on swimming should exercise caution and observe local conditions before entering the water. Swimming is not recommended for inexperienced swimmers, elderly or small children.
Rainforest Walks
There are multiple rainforest walks at Mossman Gorge that range from an easy 250 metres to a more moderate 2.5km rainforest circuit track. Mossman Gorge Visitor Centre also offers dreamtime walks conducted by local Indigenous elders who will guide you through the sacred space demonstrating traditional medicines and bush tucker. You will enjoy local bush tea and homemade damper at the end of our Dreamtime Tour. Comfortable shoes and loose fitting clothes are recommended.
Wildlife Experiences
Expect to see giant stranger figs and ancient Spurwood Tree's, the impressive bright blue Ulysses butterfly and perhaps even a Boyd's Rainforest Dragon hiding amongst the rainforest. Beware of stinging trees with their distinctive heart shaped leaves.
Transport
Mossman Gorge is located 20km north of Port Douglas and is easily accessible by car with ample parking at the Mossman Gorge Centre. BTS Port Douglas Bus provides a daily shuttle bus service to the Gorge that departs Port Douglas at 9am and 12 noon daily, returning in the afternoon it departs the Mossman Gorge Centre at 12:45pm and 2:45pm
A shuttle bus is available from the Mossman Gorge Centre to the heart of the Gorge, departing every 15 minutes between 8am and 5:30pm daily, visitors are asked to use the shuttle bus as there is no walking path to the Gorge from the Visitor Centre. There are toilets and picnic tables provided at the Visitor Centre car park and toilets are wheelchair accessible.
Price
The Visitors Centre is free to visit however there is a fee for the Shuttle service to the the Gorge. Prices are $11.80 for adults, Children aged 5-15 are $5.90 (Children under 5 are free) or purchase a family pass (2 Adults, 2 Children) for $27.50. Shuttle passes are valid for multiple trips for the entire day of purchase