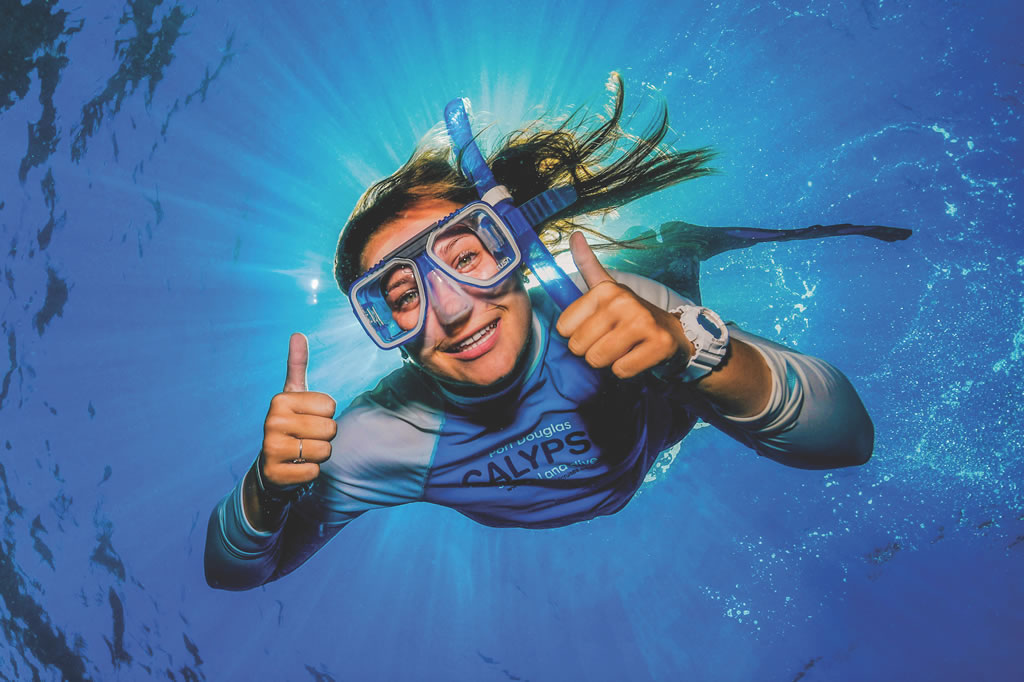 Port Douglas is just a stones throw from some of the most spectacular dive and snorkel sites of the Great Barrier Reef.
Here are just a few of our favourites spots that you can visit on your trip to the reef.
Opal Reef & Tongue Reef
50 km from Port Douglas These reefs are ideal for snorkelers with shallower water (3/4 metres) snorkelers can swim around bommies (coral outcrops) and along shallow walls.
What Might I See?
Clown fish (Nemo), damselfish, parrot fish, surgeon fish, butterfly fish, angel fish. Blue spotted stingrays, lizardfish, blue chromis, paddle tail snappers, red bass, reef sharks, turtles, wrasse, white tip reef shark, giant clams, red bass, barracuda, trevally, Maori wrasse, Spanish mackerel, schooling baitfish, Corals – boulder, staghorn
Special Interest Features
With Opal Reef being formed in a crescent this offers optimum shelter from prevailing winds allowing gentler waters.
Who can I my scuba dive book with?
Agincourt Reef
50 km from Port Douglas Boats will moor up in about 10m of water and snorkellers swim (approx 30m) to the shallower areas to view the reef. Diving here max depth 18m Snorkelling is along walls and tops of bommies.
What Might I See?
Shoals of Barracuda, nurse sharks, butterfly fish, angel fish, parrot fish, clown fish, mauri wrasse, fan corals, lion fish, sweetlips, squid, lettuce coral, table coral, boulder corals, blue stripe snappers, gobies, goldband fusiliers. Octopus, green humphead parrot fish, manta rays, loggerhead turtles, grey reef whaler sharks, Corals - fan, table, boulder lettuce, pavona Humpback Whales (May-Sep) , Minke Whales (July-Sep)
Special Interest Features
Agincourt Reef, the southern most part of the Ribbon Reefs, offers around 30 different dive/snorkel sites. It is adjacent to the Coral Sea trench.
Who can I my scuba dive book with?
Osprey Reef
300 km from Port Douglas, Osprey Reef is truly wild and remote.
What Might I See?
Close encounters with schools of trevally, giant potato cod, green turtles, moray eels, octopuses, and a variety of sharks are all but guaranteed.
Special Interest Features
Its exceptional architecture, with vertical walls, drop-offs and swim-throughs, is the summit of a great mountain that rises sharply from the ocean floor.
At dive sites like North Horn, Admiralty and False Entrance you'll find walls stepping down to 1000 metres, caves and grottoes to explore, and overhangs covered in huge soft corals.