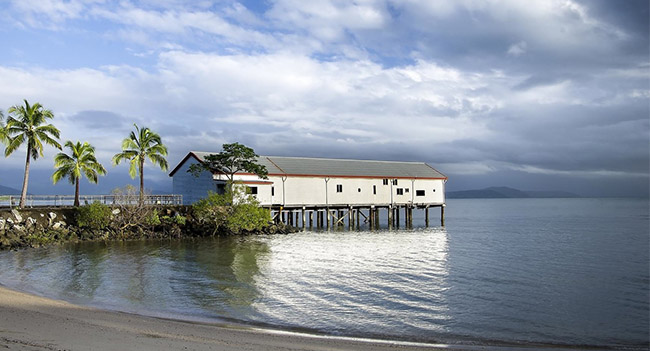 Reaching out over sparkling Dickson Inlet, the historic Sugar Wharf, which was used as a hub to transport goods from all over the shire on to ships, is now enjoying retirement as a tourist destination and popular event venue. In it's over 100 year history it has seen the Port Douglas change from a thriving port to a sleepy fishing village and now to a major tourist destination.
Set in the towns historical centre at Anzac park which also comprises St. Mary's By the Sea Church and the historic Port Douglas Courthouse, the Sugar Wharf is just a short walk from the bottom of Macrossan Street.
History of the Sugar Wharf
The heritage listed Sugar Wharf was built in 1904 before the Captain Cook Highway connected Port Douglas with the rest of the world. With a train line running directly to the wharf, cart loads of cargo were transported directly to waiting ships. Though named the Sugar Wharf, originally it was intended to transport general cargo and minerals from the gold fields in the tablelands, but with the sugar boom in the late the Sugar Wharf became primarily a way to transport sugar to southern markets.
The Wharf was last used for sugar shipment back in 1958 and today is heritage protected and is significant for its historical association with the development of Port Douglas as a shipping terminal.
It was not until February 1983 that the National Trust of Queensland listed the Port Douglas Wharf on their Register and today it is a beloved local landmark. The Sugar Wharf was privately leased and featured a shipwreck museum until 1999 when the local Council returned the Wharf to a Shire fold.
The Sugar Wharf Today
The Sugar Wharf, with its picturesque views over Dickson Inlet and the mountain range toward Mossman is a popular tourist spot. A great place for a little land based fishing, you can drop a line in and watch the sun sink behind Mount Lewis. The Sugar Wharf is also a great spot to watch the boats come into port in the afternoon.
The Sugar Wharf is also a popular wedding reception and party venue. You can hire out the historic timber building and party on the deck right over the water for an authentic Far North Queensland style wedding.
The venue can accommodate 120 on the deck and 200 inside and though there are no furnishings in the building itself, there are many local wedding and even hire companies that lease incredible furnishing and catering options to provide for all your needs.