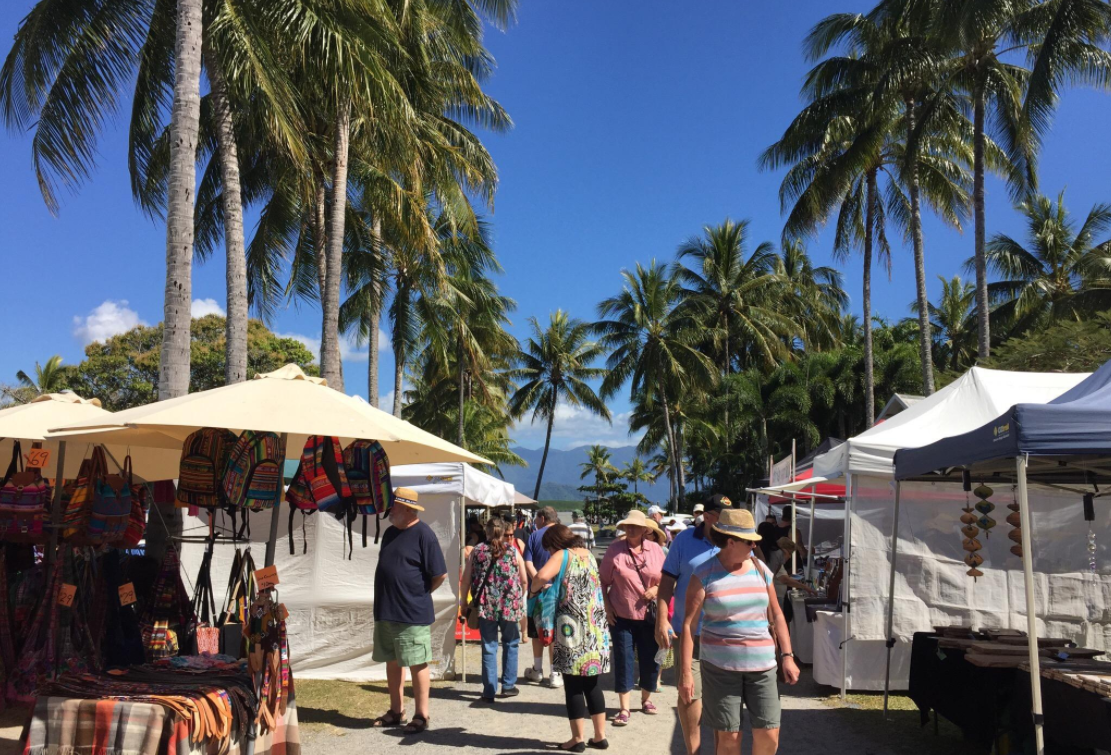 A visit to Port Douglas would not be complete without experiencing one of our renowned local markets.
Port Douglas Sunday Markets – Every Sunday morning
Every Sunday at Anzac Park (located at the bottom of Macrossan Street) you can savour all the delights of far north Queensland with an open air market that runs from 8am to 1:30pm. With a spectacular view of the Coral Sea and quaint church St Mary's By The Sea in the background, the Port Douglas Market is a must do on your visit and has been running over 25 years.
You can expect to find exquisite gem stones and hand crafted jewellery, tropical giftware, fresh local fruit and veg, clothing, homewares, variety of delicious food stall options and much more.
The Port Douglas Market has been designated a "Cotter's Market", which ensures that produce at the market is locally made by stallholders, so you can enjoy a truly authentic local experience.
Grab a fresh coconut or a coffee and enjoy a stroll through the market to Stinger Park and grab a shady spot under a palm tree and watch the boats go by.
Parking is limited, so if possible make your way on foot or jump on one of Port Douglas local shuttle services who can deliver you directly to the markets and back to your resort with your haul of goodies.
Crystalbrook Marina Markets – Every Wednesday from midday to 6pm
-
not operating at the moment, back Wednesday 28th December for 3 weeks
The Crystalbook Marina boardwalk is a fabulous place to enjoy a sundowner on any day of the week, but every Wednesday afternoon its transforms in to a veritable bazaar of treasures that just begs to be explored. With cruise ships docking regularly on a Wednesday afternoon throughout the season, theres a hive of activity at the popular spot on the water.
Jewellery, hand crafted fashion and gem stones all abound as well as artwork, homewares, kids gifts and let's not forget Hemingways Brewery if you need refreshment from all that shopping. An array of restaurants and eateries along the waterfront mean that you can rest and refuel through the afternoon, then relax and watch the boats come in as the sun sets over the spectacular mountain range.