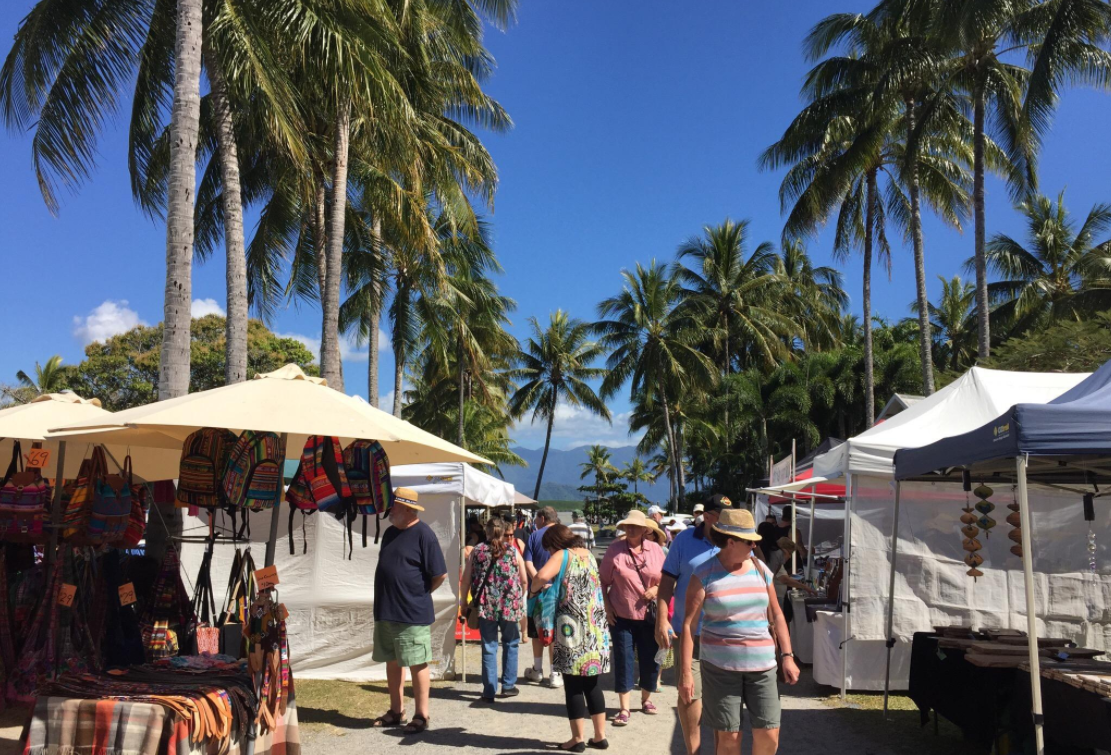 A visit to Port Douglas would not be complete without experiencing one of our renowned local markets.
Port Douglas Sunday Market – Every Sunday morning
Every Sunday at Anzac Park (located at the bottom of Macrossan Street) you can savour all the delights of far north Queensland with an open air market that runs from 8am to 2pm. With a spectacular view of the Coral Sea and quaint church St Mary's By The Sea in the background, the Port Douglas Market is a must do on your visit and has been running over 25 years.
You can expect to find exquisite gem stones and hand crafted jewellery, tropical giftware, fresh local fruit and veg, clothing, homewares, variety of delicious food stall options and much more.
The Port Douglas Market has been designated a "Cotter's Market", which ensures that produce at the market is locally made by stallholders, so you can enjoy a truly authentic local experience.
Grab a fresh coconut or a coffee and enjoy a stroll through the market to Stinger Park and grab a shady spot under a palm tree and watch the boats go by.
Parking is limited, so if possible make your way on foot or jump on one of Port Douglas local shuttle services who can deliver you directly to the markets and back to your resort with your haul of goodies.
Crystalbrook Superyacht Marina Markets – Every Wednesday from midday to 6pm
The Marina boardwalk is a fabulous place to enjoy a sundowner on any day of the week, but every Wednesday afternoon its transforms in to a veritable bazaar of treasures that just begs to be explored. With cruise ships docking regularly on a Wednesday afternoon throughout the season, theres a hive of activity at the popular spot on the water.
Jewellery, hand crafted fashion and gem stones all abound as well as artwork, homewares, kids gifts and let's not forget Hemingways Brewery if you need refreshment from all that shopping. An array of restaurants and eateries along the waterfront mean that you can rest and refuel through the afternoon, then relax and watch the boats come in as the sun sets over the spectacular mountain range.
Mossman Farmers Market – Every Saturday morning
With the Atherton tablelands food bowl right at our doorstep, the Douglas Shire boasts unparalleled access to fresh produce as well as an abundance of rare tropical fruit. A Saturday morning saunter under the Raintrees in Mossman, located just 15 minutes drive from Port Douglas, is a great way to sample what's in season.
From controversial (read; stinky!) Durian fruit, to organic locally made Kombucha and vegan treats, there is something for everyone to taste. But its not just fruit and veg on offer, treat your self to a quick massage, perhaps a fresh cooked French crepe or a dig through the cute second hand shop on site.
The Mossman Markets runs every Saturday morning and is a true locals secret where you can mix with producers and artisans in beautiful surrounds.
Taste the Tablelands – Fourth Saturday of the Month
Beautiful Yungaburra is a special place to visit in the Tablelands with its Swiss Heritage buildings, antique shops, a Heritage listed pub and brightly coloured hanging flower baskets, its like stepping back in time in the Tablelands.
See historical Yungaburra come alive on the fourth Saturday of the month at the Yungaburra Markets, featuring over 250 local growers, producers and artisans from across the Atherton Tablelands.
Featuring homemade arts and crafts, local fresh produce to unexpected vintage treasures, you can find just about anything at the historic Yungaburra Market. Grab a cuppa to go with that homemade cake or if you're more of a green thumb pick up some local plants or seedlings. There's also a kindy cafe to keep the kids entertained while you shop.
Yungaburra is a two hour drive from Port Douglas via the Atherton Tablelands and the monthly market runs from 7:30am – 12:30pm on the fourth Saturday of each month.